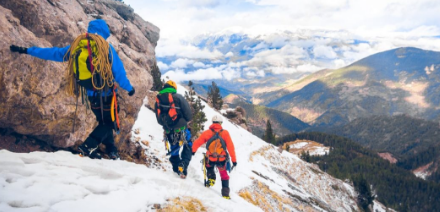 Many people all over the world are choosing adventure travel, and the research shows there is an increase in more than 50% over a relaxing trip to the beach. the gift of adventure travel to you is everlasting memories and excitement coupled with improved health. It is a great healthy option too with many people going vegan to stay healthy as mentioned in https://www.forbes.com/sites/katrinafox/2018/02/21/how-the-travel-industry-is-responding-to-the-rising-demand-for-vegan-vacations/#6041e82c2eb0. People these days would instead use their hard earned money feeling refreshed, happy and healthy. Below are a few reasons why travel adventure is excellent.
Improves your physical health: Adventure travel is for people who are not afraid to sweat and get themselves dirty. But the fact is when you either sweat or get dirty, there are a fewer allergies, respiratory issues and better metabolism as per a study conducted by scientists. It is one of the best ways to improve your immunity and enjoy better health.
Also, when you go out and connect with nature, stress levels decrease. The oxygen levels in your body are high as you are relieved of stress and results in weight loss, better endurance, etc. When the adventure travel you do is say for example on a mountain, you get to breathe fresh air which aids in reversing the effect of alkaline on the body. This in turn helps in making your body healthy and protects you from diseases.
Better mental health: Many people are suffering from memory loss even before they hit their 60's, one of the reasons is that the hippocampus, which is the center of memory grows smaller as you age. But research suggests that people who hike or walk can grow back their hippocampus which helps in retaining the memory. Hiking or walking that you do in a travel adventure will sharpen your brain. Moreover, irrespective of your age it is an achievement to go on adventure travel. It can be physically and mentally uplifting and a great achievement when you can fulfill the challenges that can aid in boosting your self-confidence.
Rejuvenates You: Oxygen that you breathe is combined with the food that is digested by the body and aids in many bodily functions. When this energy is in combination with activities like hiking, biking, walking, etc., endorphins are released. These are happy hormones when these are released there is better blood flow. Vitamin D absorption is also better making you happy and healthy, rejuvenating the body. That is the reason doctors stress on the need for physical activity daily so that lifestyle-related diseases are controlled.
Save the environment: Though nature is a gift to human beings, it is not being cared for properly. Due to various reasons, there is global warming because of which the environment is deteriorating and needs to be restored. Preservation of forests, rivers and other natural resources has become very difficult as many countries do not have the money to preserve them. Through ecotourism, you can help these countries in their efforts to save the land. Adventure travelers, when they opt for touring such places, assist in protecting and preserving the land.