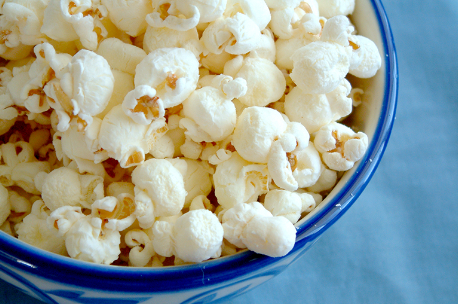 Popcorn is the best movie and hangout companion, isn't it? Popcorn is touted to be very good for health when consumed in the right way and apt quantities. A funny quote says, "Of course, life is bizarre, the more bizarre it gets, the more interesting it is. The only way to approach it is to make yourself some popcorn and enjoy the show." We have a wide range of popcorn makers available in the market these days that give us the convenience of making delicious popcorn at home. The Popcorn Popper Hub on Reddit provides the best reviews and comparisons of the various popcorn makers. Popcorn contains Polyphenols that are found in plant foods. They fight against the free radicals that damage the cells and they are responsible for aging as well. The share of profits contributed by the popcorn market is significant and is growing day by day. For the right statistics, http://www.bakeryandsnacks.com/Article/2016/03/08/Popcorn-to-grow-4bn-in-five-years-but-US-market-share-to-shrink site is the best.
Nutritional value of popcorn:
(Per serving, in % values)
Iron- 4%
Vitamin A- 1%
Dietary fiber- 14%
Carbohydrates- 6%
Potassium- 2%
Total fat- 2%
Cholesterol, Sodium- 0%
Protein- 3%
Popcorn is high in fiber and anti-oxidants that makes it better than the other snacks loaded with fat and oils. Air popped popcorn, and organic kernel made popcorn is free from sugar and salt content also.
The mode of preparation of any food makes the ultimate difference. We have ready-to-eat popcorn available in the supermarkets that are filled with chemicals and artificial synthetics that enhance the flavor and color. The popcorn tubs sold in the multiplexes and movie theaters contain processed salt and high-fat content. Consuming this kind of popcorn will ruin the health, and the primary benefits of popcorn are overridden in these types of preparation.
Using organic kernels is the best option. Using a simple stove to pop the kernels is the safest way. As days pass by, we always realize that traditional methods are the best! We can also use popcorn makers that avoid oil. If we want to please our taste buds, then it's better to use homemade ghee or dietary oils like coconut oil and olive oil. The corn kernels should be soaked well before the preparation. Un-sprouted or unsoaked kernels can cause indigestion. Sorghum can be used in the place of corn to avoid allergies.
So, to get benefited from popcorn, it is advisable to avoid microwave and processed popcorn. Organic popcorn is suitable for people of all ages and is free from artificial chemicals.
Recipe of homemade popcorn:
Organic corn kernels should be soaked well and kept aside. Two tablespoons of coconut oil or olive oil should be added to one-fourth cup of popcorn. These ingredients can be taken in a skillet. The skillet must be covered with a glass lid and should be cooked on medium flame. The kernels will begin popping, and the vessel has to be shaken well till the popping sound fades away. Sea salt or nutritional yeast powder can be sprinkled for yumminess.